Welcome to

Cherokee & Sioux
Nations


You have come to where the past has risen up to meet you. So that you will not soon forget those that have walked this land before you and did not destroy the land, but rather loved and cared for it.

The links provided here will give you a window into Native American cultures, history and difficulties faced.

Cherokee and other Native Americans

Cherokee Vs. Georgia

History of the Cherokee

Longhouse Homepage

Native American Homepages

Native American Genealogy

Sioux Heritage

Nakota/Dakota

A guide to the Great Sioux Nations

Wounded Knee

Herbal Native American Medicine

An old Grandfathers Sadness

Index of Native American Resources on The Internet

Cherokee Tribal Membership

The Cherokee Observer

Tsalagi

US House of Rep. - Internet Law Library - Indian Nations

Our Grandaughters page

Cherokee True Type Font Freeware


"Among these are many Native Americans"

Come back soon...more to come!
Cherokee Medicine Man Sioux WarriorWoman
Sign My Guestbook
View My Guestbook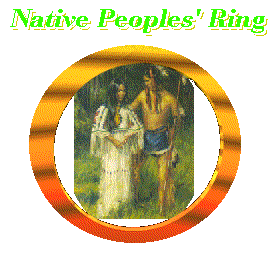 This Native Peoples' Ring site is owned by Cherokee Medicine Man.
Click for the
[Previous] [Random] [Next Site]
[Skip Next] [Next 5]
Click here for info on how to join The Native Peoples' Ring.
The Native Peoples' Ring logo courtesy of Terry Gould


Browse with Netscape


page designed by:Cherokee & Sioux Web Designers

<©>